2022 Campaign Overview, Informational Flyers, and Planning Materials
Campaign Promotion Toolkit
Filled with ready-to-use messages, the Promotion Toolkit is designed to make it as easy as possible for you to help promote the NJECC to fellow colleagues. Download the Promotion Toolkit deck and the corresponding graphics and flyers for:
Campaign Overview, Schedule, and Instructions
Save-the-date, Kickoff, Reminders, & Wrap-up Messages and Graphics
Holiday, Seasonal, and #GivingTuesday Messages and Graphics
Cause Week Messages and Graphics
Kickoff and cause week videos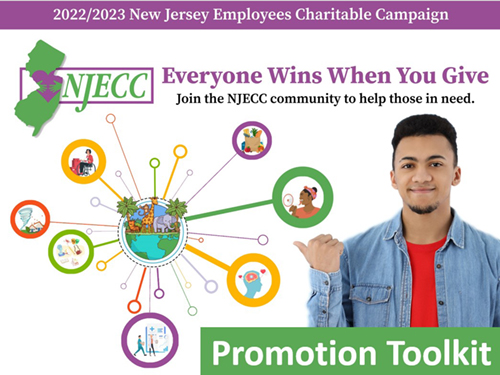 Campaign Poster (11×17 size)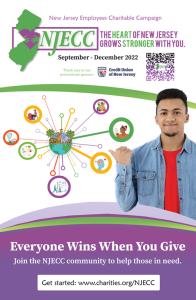 Campaign Flyer and Goal Chart (8 1/2 x 11 letter size)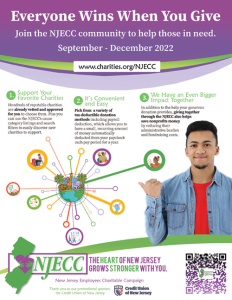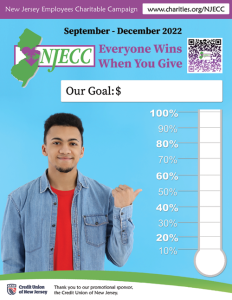 Cause of the Week Calendar and Materials
What it is and how it works:
Throughout the campaign, we will feature 14 specific causes and NJECC charities that address those causes. For each of these cause weeks, we have created ready-to-use employee messages, e-cards, editable Word document flyers, and group fundraisers you can use to promote the campaign, these causes, and the charities they support to donors. We are using web pages on the donation portal as a Virtual Charity Fair to feature videos and success stories from NJECC charities addressing the featured cause week.
Download all cause week materials, employee donor messages, e-cards, and editable event flyers here. Below is a preview of the types of graphics and materials you can download:

Group Fundraisers
In addition to letting employees know how they can support their favorite charities through payroll deduction on the NJECC pledge site, we invite you to use group fundraisers for special events focused around each of the cause weeks.
Using any of the message templates and flyers we've provided in the Coordinator Promotion Toolkit, you can use these group fundraisers to generate excitement around the NJECC, attract new donors to participate, and help raise money as a group for causes employees care about.
Donors can choose a suggested donation amount or enter a custom amount and pay via one-time credit/debit card, bank account, Google Pay, or Apple Pay. After the 2022 NJECC ends, funds for each group fundraiser will be distributed equally between all of the NJECC charities who address each respective fundraiser cause.
Links to Group Fundraisers:
Email Signatures
Click on the images below and click the "Logos, Email Signature, and Campaign Themed Graphics" folder for email signatures and more campaign banners and logos you can use. Save the files to your computer. Insert one of these graphics into your email signature as a way to promote the NJECC to your colleagues and leadership through your everyday email interactions. Be sure to hyperlink your email signature graphic to www.charities.org/NJECC to make it easy for them to visit the NJECC donation site.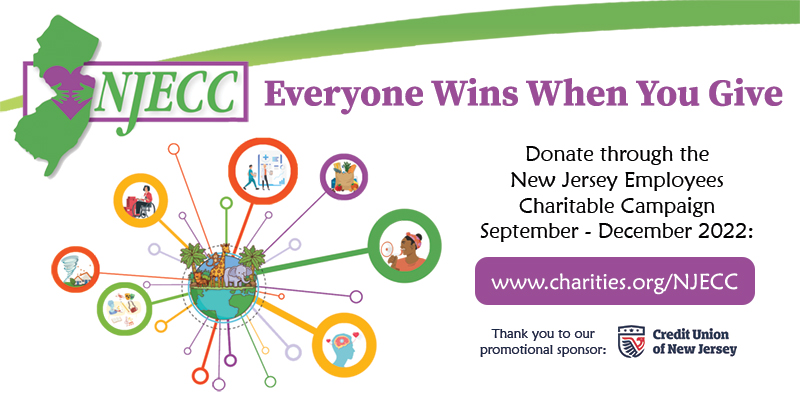 QR Code
For agencies with employees in the field who don't have easy access to a computer, we've created a QR code. We have created a version of the campaign flyer and editable flyer with the QR code for you to share, along with donor instructions on how to scan and use the QR code. You are also welcome to use the QR code image on any other campaign materials you use to promote the campaign. The QR codes and flyers with the QR code can be found in the coordinator promotional toolkit folder here. When scanned, the QR code will take employees to the NJECC donation website where they can make their donation.
Right click on the QR code to save it to your computer: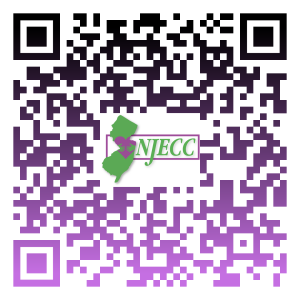 Logo
For copies of these logos and this year's campaign theme graphics, click here.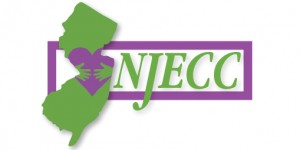 "I Gave" Card
To print this "I Gave" graphic on an 8 1/2 x 11 size page (as shown below), click here.